Being EVEN MORE yourself makes life better. It helps to bring the right peeps and opportunities your way, while at the same time encourages you to feel more confident and secure in your own skin.
Just like you, each handcrafted item you'll find on Twisted Pixies is distinct and original. When you rock our pieces, you effortlessly express your inner edge to the outer world.
The jewelry and accessories you'll find here are designed to make a bold statement, while at the same time give attention to the finest of details.
Our collections are created to be worn often, and will be noticed every time.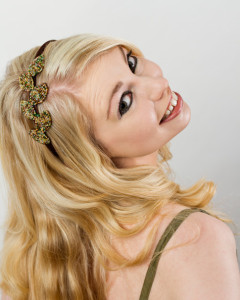 Hi. I'm Megan.
On the introvert-extrovert spectrum, I could easily be a poster child for "quiet girl in the corner with a book."
Not having the chops for small-talk, however,doesn't mean I don't have loads of personality and the urge to share it.
I express myself by fulfilling my ever-present urge to design and create.
I combine traditional Native American style beading techniques that I've been practicing for most of my life with my skills as a professional graphic designer and love for alternative, Gothic fashion.
As a "quiet girl" my goal is to create pieces that say everything without you even having to utter a word.
When you make a purchase from Twisted Pixies you aren't giving your money to a major corporation pumping out cookie-cutter jewelry from factories with sketchy labor practices. You are supporting an individual artist and small business owner.
Don't think for a second that I don't appreciate it.
I am always coming up with new ideas for product lines and ways I can say thank you. Get on the list to be among the first the find out when new product launches happen, and to get the exclusive, unadvertised discounts that I don't share with anyone else: